Friday, 7 April 2017 at 19:00 | Sunday, 9 April 2017 at 19:00
Learn More and Book Tickets Here
In early April 2017, we make pilgrimage in the hills and waters of good old Sussex.
This pilgrimage is open to all, with and without religion. Bring your own beliefs.
A two-night pilgrimage weekend, set amid the astonishingly un-Londonlike natural landscapes of deep Sussex – from soaring chalk clifftops to endless vistas of quilted fields, with snaking rivers and mighty trees, beneath skylark and buzzard, among foxes and deer, through the flowers and meadows of Sussex at its rural idyll best.
Expect immersion in natural beauty, continuous healthy exercise, space to relax and think, the joys of community spirit, and a sense of connection to a bigger older better way of life.
Also expect an astonishing array of quirky wayside churches, from the tiny to the vast, ancient and beautiful in many diverse ways.
Our pilgrimage's final destination is the Holy Well at the foot of Eastbourne cliffs. Our start is the town of Lewes, nestled between the South Downs. Our route follows ancient trackways through wonderful nature, as we travel via 'holy places' of all descriptions.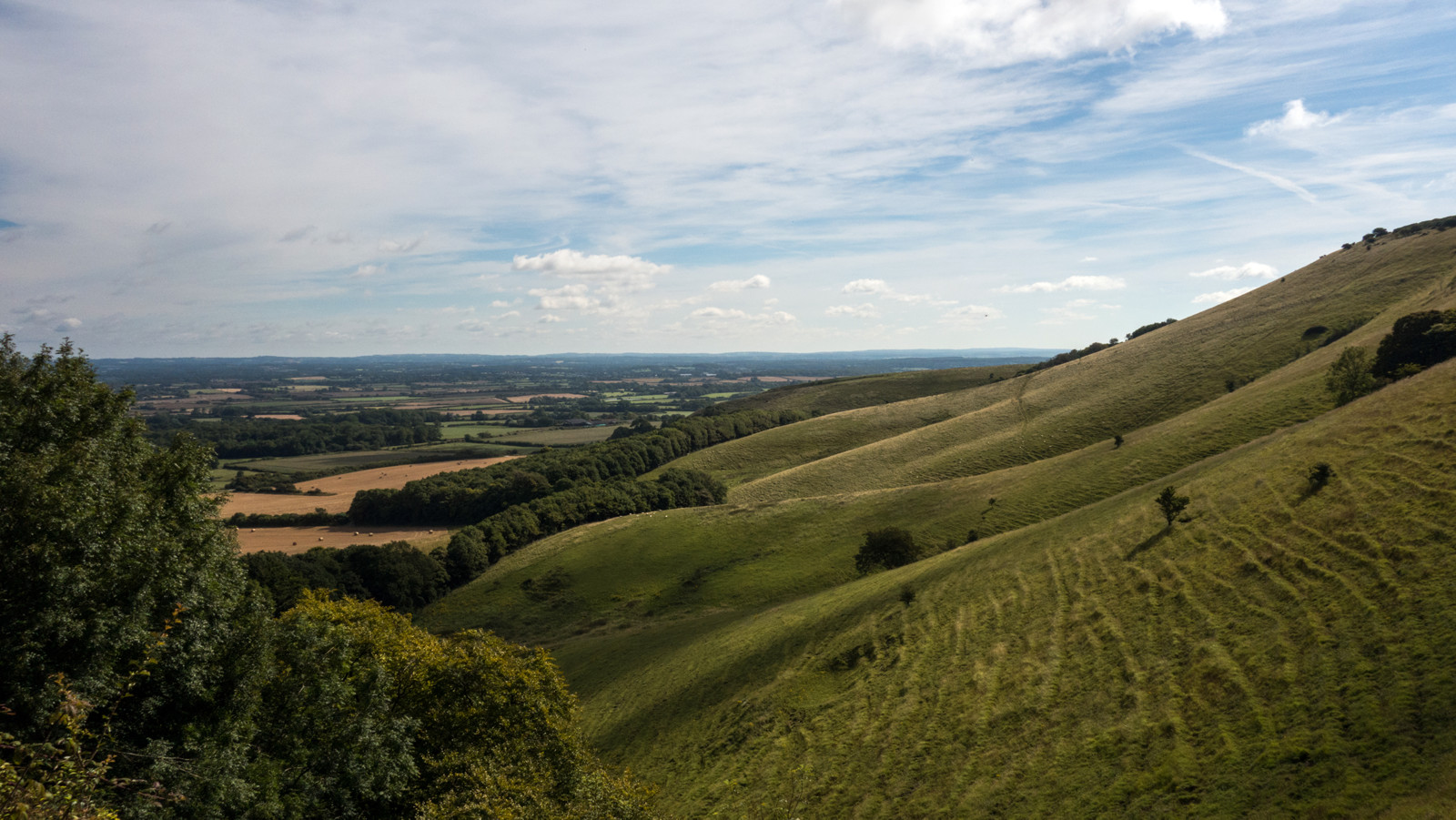 Your Ticket Provides: 
Full gentle guidance by Will and Guy, singing pilgrims and founders of the British Pilgrimage Trust. As seen on BBC1 and C4, and the Times/Spectator/Guardian/Independent.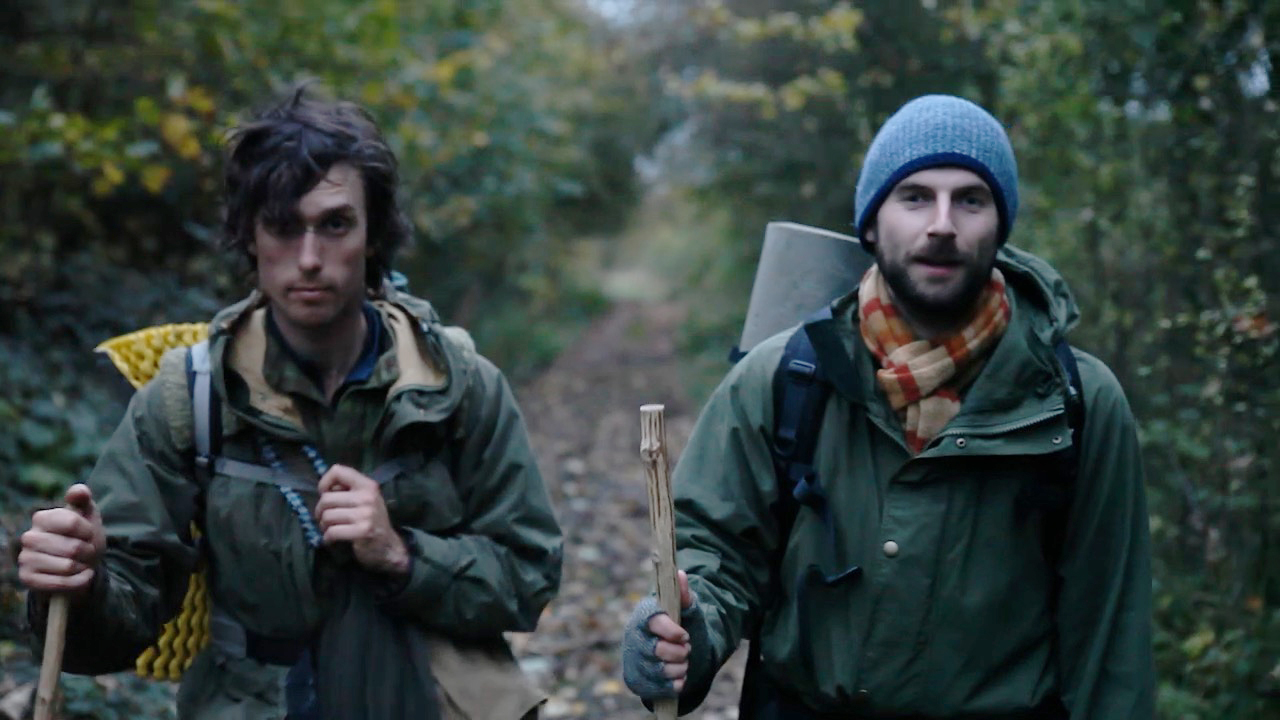 Traditional British pilgrim songs – taught and shared along the way. See: www.soundcloud.com/voice
Friday night walk (with head-torches) out of Lewes into the South Downs – including Mount Caburn, an Iron Age Hillfort, and Bible Bottom, the most silent spot in South East England. With a strong possibility of glow-worms.
Sleep in Firle's Medieval Church (with tap, toilet and fire in the churchyard) – as guests of Peter Owen Jones the vicar. Plus fully catered organic breakfast, and local 'holy drinking water' from Pear Tree Well.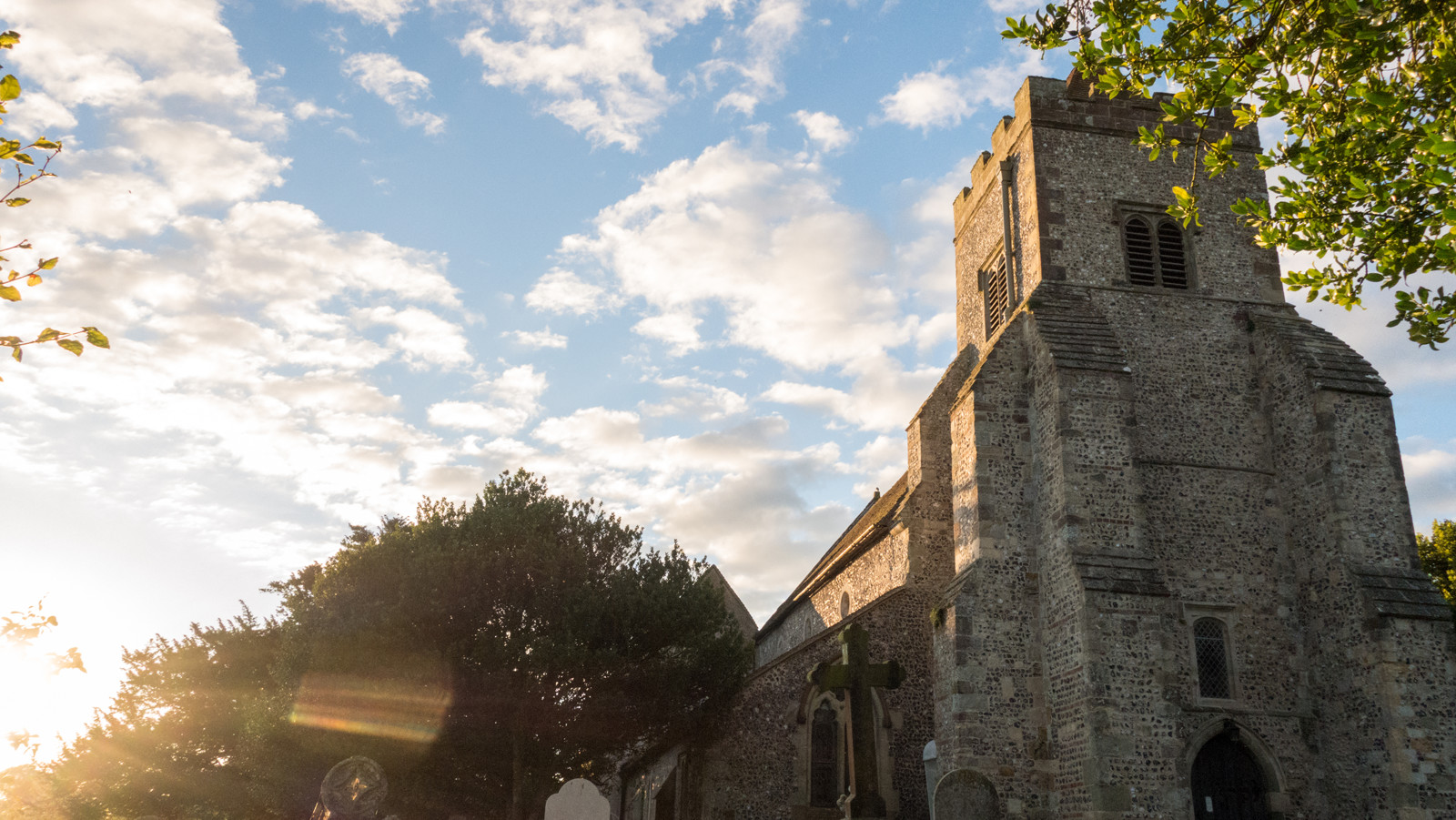 Vistas that go forever, from hilltops littered with history – including bronze-age mounds and ancient beacons.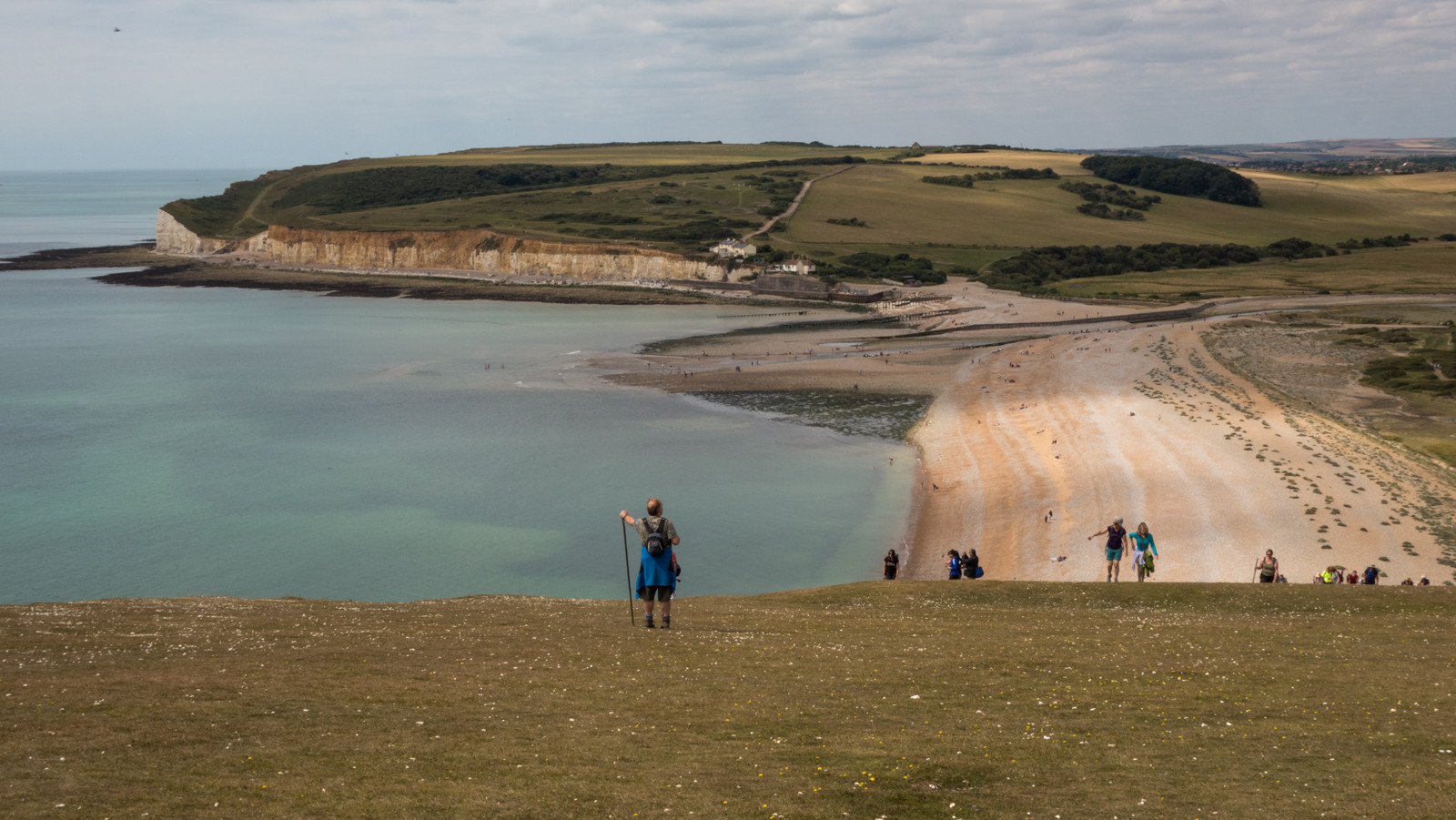 Silent walking – moving meditation woven into the daily journey.
Foraging for medicinal herbal "pilgrim-tea".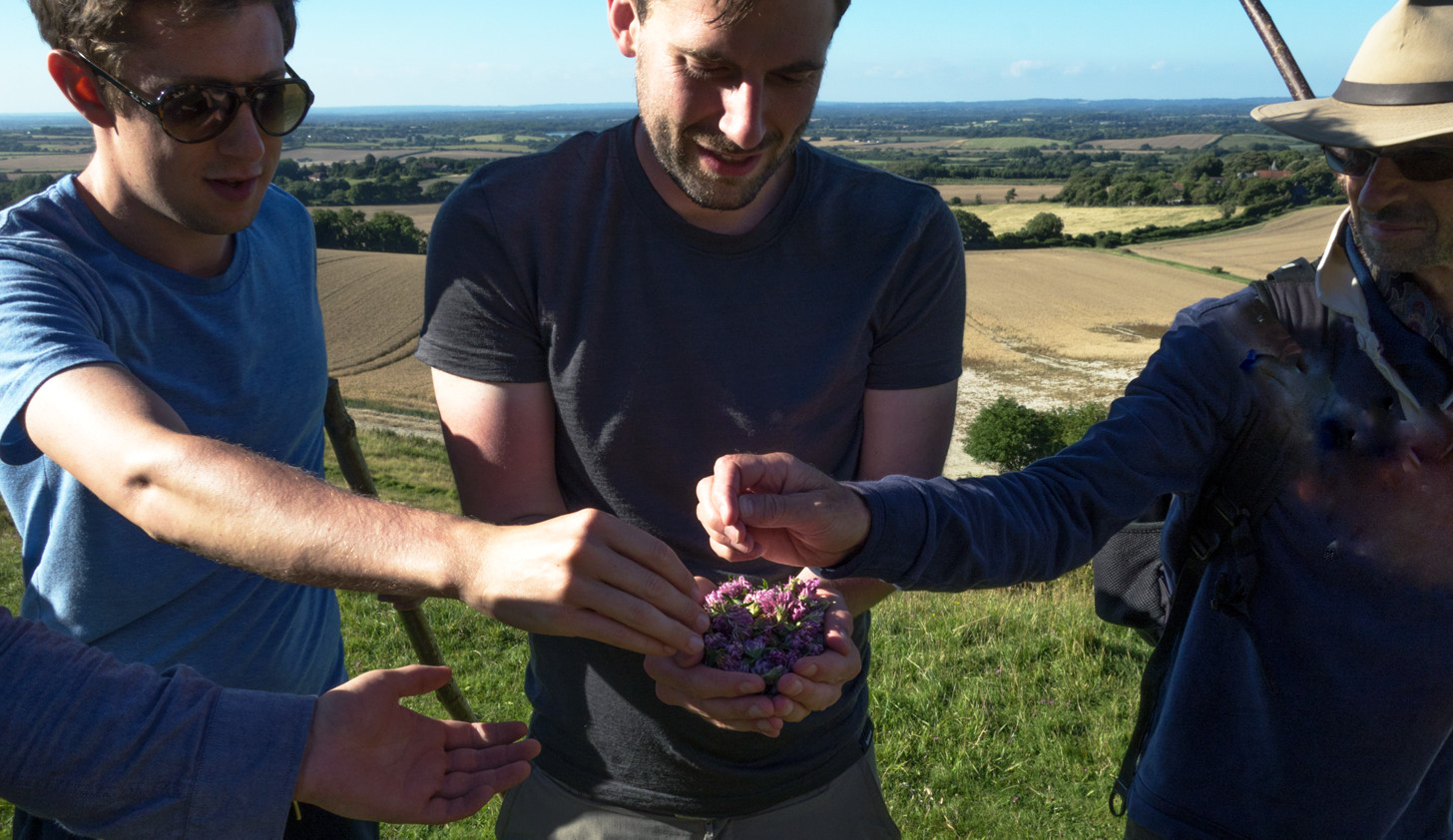 Berwick, the Bloomsbury set's WW2 painted church.
Lunch from 'possibly the best village shop in South England' – in Alfriston (self-paying).
The Cathedral of the Downs at Alfriston, plus England's smallest Church at Lullington.
The Long Man of Wilmington, a mysterious ancient chalk giant.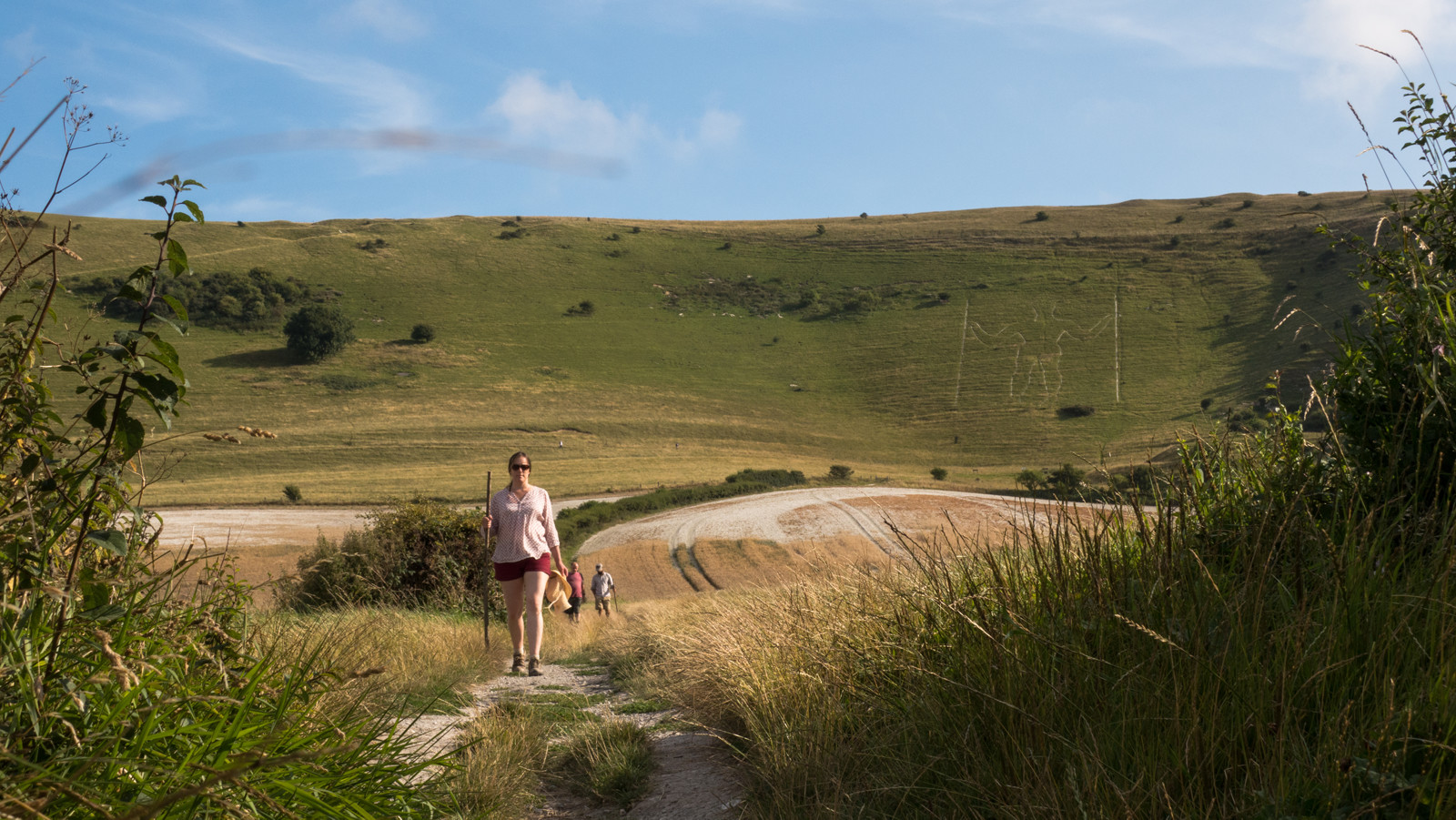 Wilmington's ancient great Yew Tree.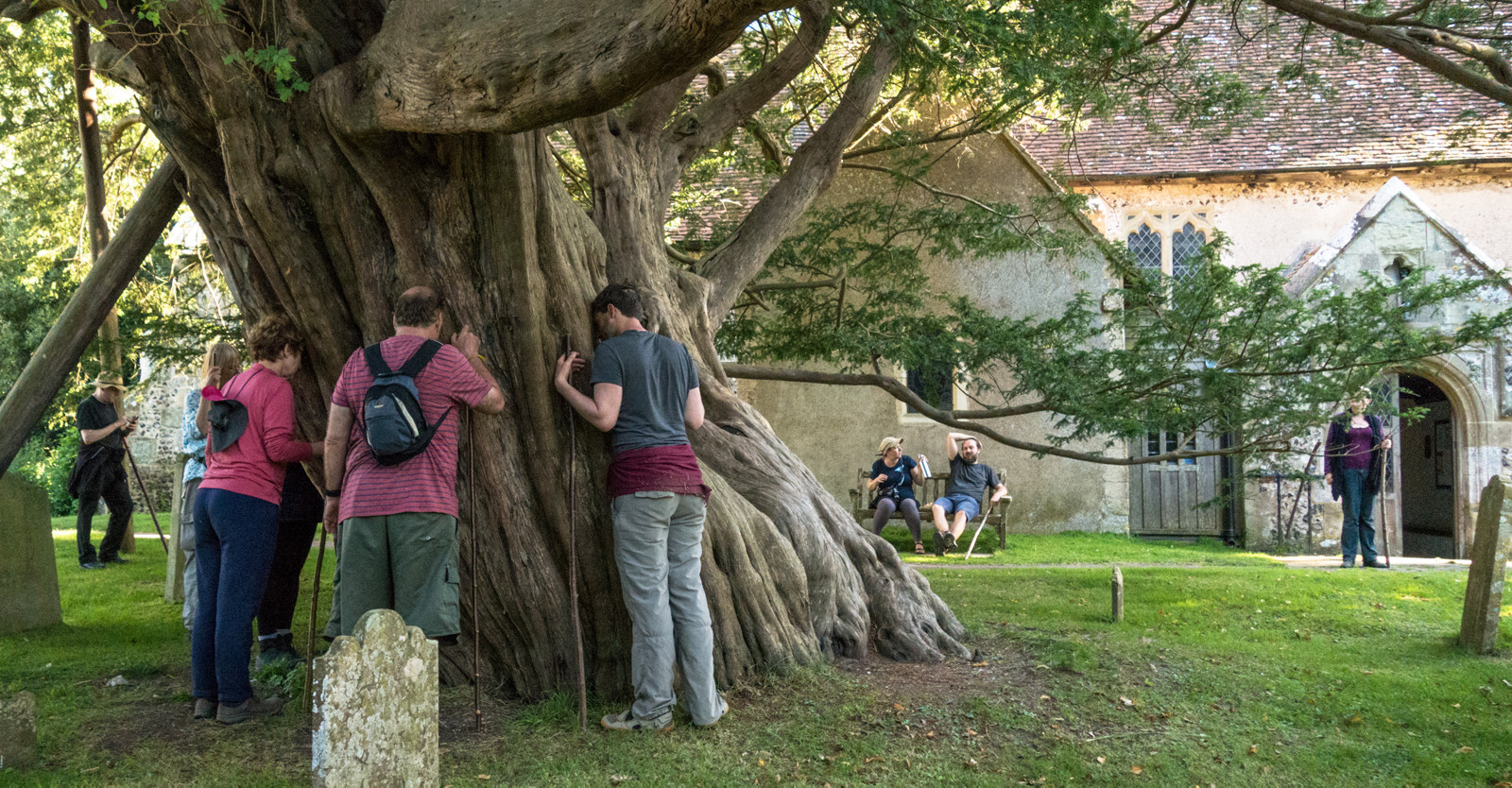 Supper at the George Inn, a 14th century pub, one of England's oldest licensed ale-houses (self-paying).
Sleep in Alfriston Church, with fully catered local breakfast.
Morning river walk to Cuckmere Haven, the only undeveloped river mouth in South England.
Wild-swimming in the bows of the river Cuckmere (optional).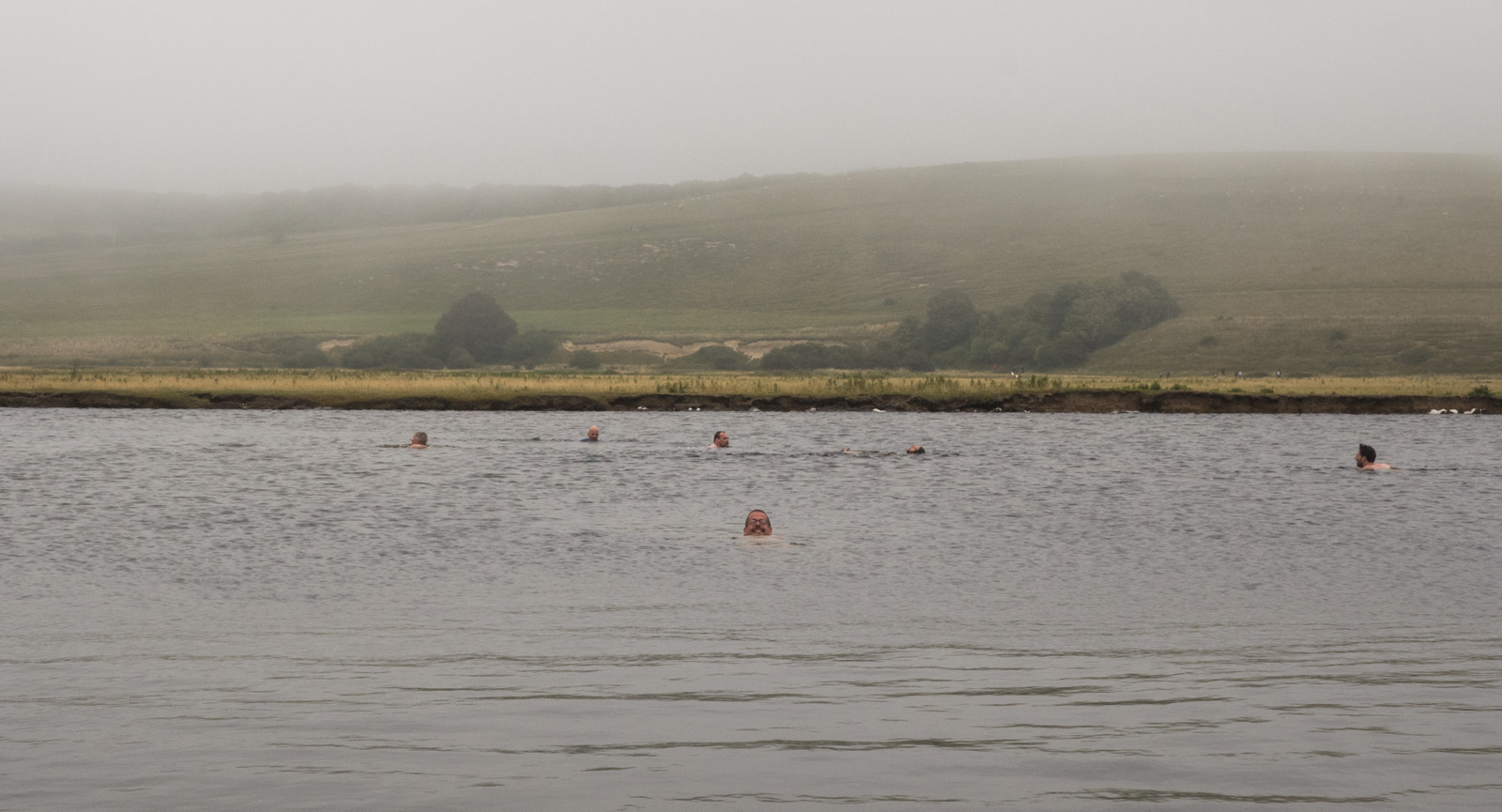 Walking the iconic chalk cliffs of Seven Sisters.
Picnic lunch in a National Trust Cafe at Birling Gap (self-paying).
Eastbourne Holy Well – safely filtered and guarranteed potable.
PLUS: Hazel staff and silver pin for every pilgrim.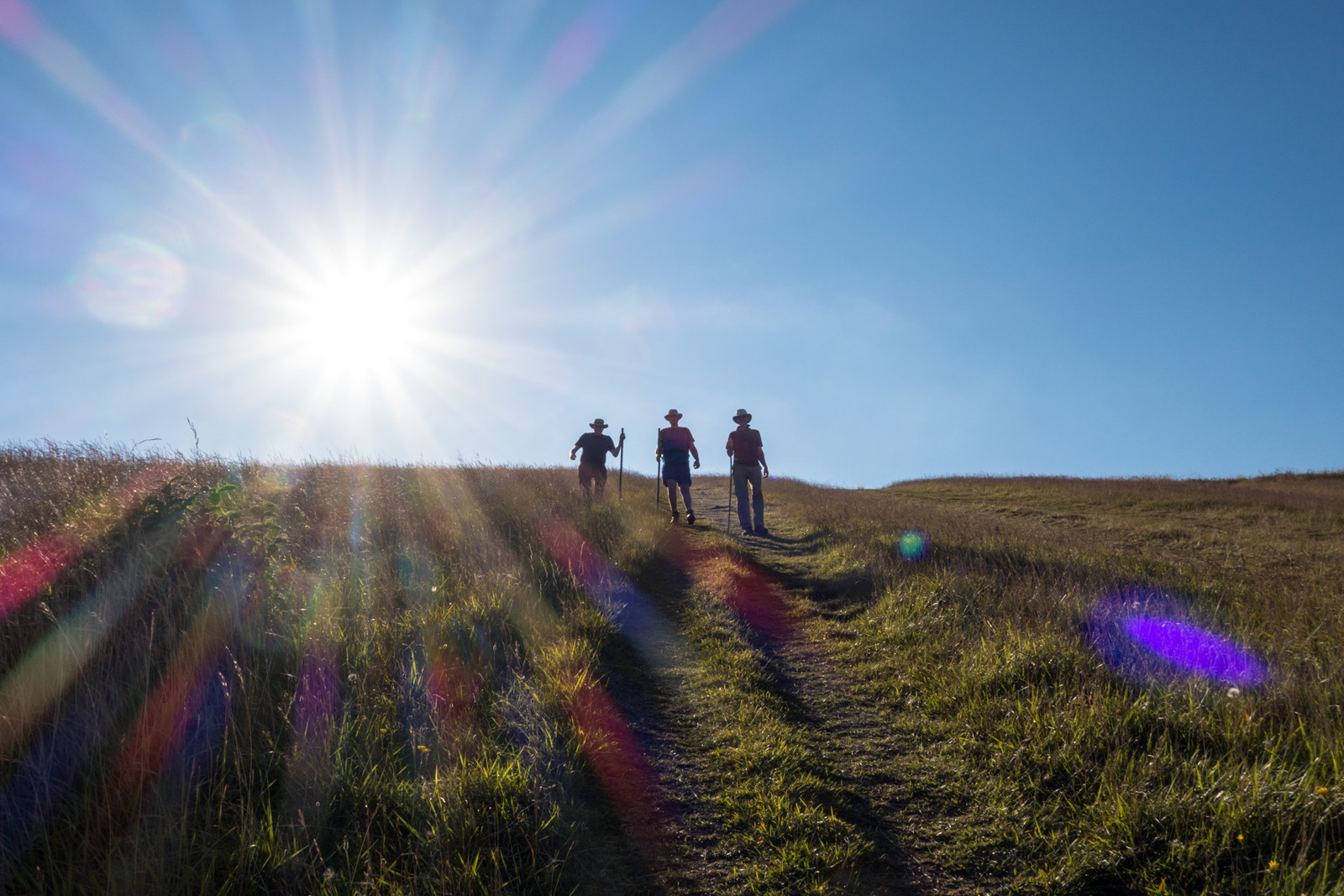 Tickets
£200 (£120 Concession). All proceeds go towards British Pilgrimage Trust, to pursue our charitable goals (and if you pay tax, you can add gift aid on top). Breakfasts on Saturday and Sunday are also included, but not lunch and dinner. If you would like to not carry your backpack, luggage transfer is available (one bag per person).
Learn More and Book Tickets Here
What you get for your ticket…
All donations go straight into the British Pilgrimage Trust (HMRC Reg: EW38990), a charitable trust which seeks to open up Britain's pilgrimage tradition in newly inclusive and exciting ways.
Your ticket includes a night's accommodation in a Medieval Priory (ancient with modern toilets). It also includes a  really good breakfast. Guy and Will provide full guidance, navigation, and support – as well as the fruit of their extensive pilgrimage experience. On our thousands of miles of British pilgrimage, we've made many mistakes, which hopefully means you don't have to.
It will be quite a long walk – 11 miles the first day, and 13 the second – but we move quite slowly with lots of stops. Your fellow pilgrim companions are usually a mixed bunch – albeit with a certain shared questing glint in their eye.  Pilgrims tend to have very little, and almost everything, in common. You'll see what we mean.
You'll make friends, learn songs, meet plants and animals. You'll feel good about yourself and other people, and you'll feel closer to the land and story of Britain. You'll change your relationship with holy places, and feel more freedom to meet them in your own way.
Of course, you'll also be challenged, in significant ways. Your legs might get tired. Someone might say something that's difficult for you – or vice versa. It could rain and be windy. It could be too hot. And you'll basically sleep on a floor in an ancient church – though if you're worried it's going to be creepy, be prepared to find the precise opposite. And it may open up vistas of possibility that you had not encountered for a while. Your well-set notions might get all shook up, in the best possible way.
This is pilgrimage, in a British tradition, modern but also very old indeed. We hope you'll find something wonderful to take home…
If you are interested, book a ticket and come along. If you're unsure, book two tickets and bring a friend.
See you on the path. We look forward.
Learn More and Book Tickets Here
Testimonials
What I thought was so amazing was how they guided us and clearly have a philosophy behind their passion yet there was no expectation for the walk to be anything to anyone or for a site to have any particular meaning…Everything about our trip was perfect and I feel unbelieveably nourished, refocused and uplifted. I also feel so connected to this amazing and under-appreciated land in which live, and its history and spirituality which we never hear about.
Christabel Reed, Founder of the Advaya Initiative
We started off the wall not knowing anything about each other, yet at the end of the trip, it felt like I've known these people for so long. It's amazing how you open up to people under such calm and natural circumstances… I will definitely do another pilgrimage in the near future:)
The Downs
The Bows of the Cuckmere
Eastbourne Pier
Firle Beacon
Learn More and Book Tickets Here
FAQ
Who can come?
Anyone over 18 (or over 16 with parental guidance).
Is this religious?
All and no-faiths are equally welcome. We operate a "Bring Your Own Beliefs" policy. We ask that all participating pilgrims tolerate one another's spiritual choices.
Are there fitness limitations?
Pilgrimage is moderately intense. If you struggle to walk all day, this type of pilgrimage may be an unsuitable activity for you right now. If you are unsure whether you can walk 25 miles in two days, there are plenty of escape points en route where you can jump on a bus. But we will walk slowly, and start early, so we believe this is a very manageable distance for the majority of people.
Due to the stiles and off-road access along much of this route, unfortunately this pilgrimage is not suited for mobilty-impaired people or those requiring wheelchair access. Sorry. We're working on good alternatives…
What should I bring?
You will need to bring your own sleeping kit – an inflatable roll-mat and sleeping bag. You will also need adequate warm and waterproof clothing, in case of inclement weather – but we suggest you pack for the weather report a little ahead of time. You will need spare clothing sufficient for 2 days' walking. And you'll need shoes that fit. And some money to buy your lunches and supper – though breakfast will be provided. More detail on what to bring will be sent to you in your order confirmation email.
What are my transport/parking options getting to the event?
Arriving by train to Lewes station is easiest – 7pm on Friday. Leaving by train from Eastbourne is also very simple – that's around 7pm on Sunday.
If travelling by car, weekend parking in Lewes is cheapest at Spring Gardens (<£3). Trains are usually available from Eastbourne station back to Lewes – but please check all your own travel availability details. Buses alos offer a good service, and taxis are also available.
How far is it? Is the terrain difficult? 
Each day is between 12-14 miles walking. This is not especially far, but nor is it entirely easy. You'll feel it, but not too badly. There are hills. We request that all attendees have walking fitness and confidence that such distances are unlikely to prove excessive.
Is luggage transfer available?
There is luggage transfer, which will pick up your main bag on Friday evening, drop it Firle Church, collect it on Saturday morning and drop in on Saturday afternoon in Alriston, before collecting on Sunday morning and dropping in Eastbourne trains station that evening.
We ask that every pilgrim limits themselves to a single bag. We recommend that if you think you have light enough sleeping kit and simple enough needs, you carry your own backpack, to gain a fuller sense of self-sustainablity.
Where can I contact the organiser with any questions?
You can email the organisers, Will (07415 223552) – or Guy (07841 518110).
Or email us on: info (at) britishpilgrimage.org
Is my ticket refundable?
If you cancel before the event, we can offer an 80% of your ticket price, with the remainder retained to cover costs incurred.